More reports have come in from the activities organised and called for by Hands Off Venezuela and the Bolivarian Congress of the Peoples. Read the latest reports from Britain, Italy and Brazil.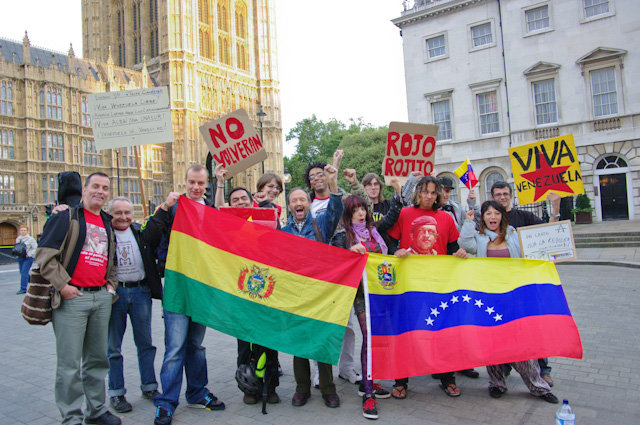 HOV-UK organise lively rally outside Houses of Parliament
On Saturday September 18, some 40 people attended the London branch of Hands Off Venezuela's vibrant rally in solidarity with the Bolivarian Revolution. An international day of solidarity had been called by the Venezuelan branch of HOV and the Bolivarian People's Congress in light of the upcoming National Assembly elections.
HoV Italy organises solidarity with Venezuelan Revolution
In Milan, severe disruption caused by a heavy rainstorm which paralysed the city forced the organisers to postpone the party in solidarity with the Bolivarian revolution planned for the evening of September 18 to the next day, Sunday, September 19. Many who were planning to attend on the original date could not make it but nevertheless 20 people attended, in spite of the disruptions and a blackout in the area caused by the previous day's storm. They showed real interest in the material of the local HOV campaign and in the magazine of the Marxist tendency in the PSUV, Lucha de Clases.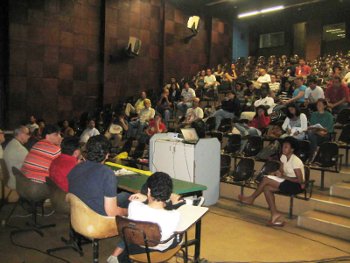 September 26 Brazilian workers are with the PSUV in Venezuela!
Several events were organised in Brazil last weekend as part of the World Day of Solidarity with the Bolivarian Revolution, including visits of delegations of trade unionists and political activists to Venezuelan Consulates in different parts of the country and a rally in Rio de Janeiro.